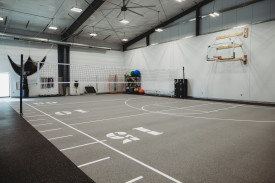 OSMC takes pride in specializing in sports medicine and is the only clinic in the region where patients have the opportunity to have complete one-on-one care with a healthcare professional from start to finish in their rehab progression. Our Sports Medicine team communicates and prescribes your plan of care from injury to return to play.
OSMC's Streamline to Sport Program gives athlete's the ability to return to their sport as quickly and safely as possible. The program streamlines the transition from physical therapy discharge to successful return to play. This is achieved through one-on-one sessions with an athletic trainer whom will train, monitor, and successfully guide the athlete through individualized sport specific activities and interval drills.
This program will benefit any patient seeking further services beyond PT to get one on one training in their sport or activity. It includes sport specific activities such as agility exercises, sport specific drills, cutting, jumping, speed work and throwing progressions. 
Contact Elizabeth McKinney, MS, LAT, ATC for inquiries or scheduling. 
---