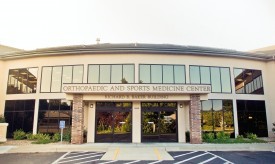 Orthopaedic & Sports Medicine Center
1600 Charles Place
Manhattan, KS 66502
Phone: 785-537-4200
Fax: 785-537-4354
Office Hours
| | |
| --- | --- |
| Monday – Thursday | 8:00 a.m. – 4:45 p.m. |
| Friday | 7:00 a.m. – 1:00 p.m. |
*Closed on Christmas Eve 12/24 and New Year's Eve 12/31*
Physical Therapy
Fax: 785-537-8180
Office Hours
| | |
| --- | --- |
| Monday - Thursday | 7:00 a.m. - 5:00 p.m. |
| Friday | 7:00 a.m. - 1:00 p.m. |
Ortho On-Call (temporarily closed due to COVID-19)
Office Hours
| | |
| --- | --- |
| Monday - Thursday | 5:00 p.m. - 8:00 p.m. |
| Friday | 1:00 p.m. - 8:00 p.m. |
| Saturday | 12:00 p.m. - 4:00 p.m. |
| Sunday | 12:00 p.m. - 4:00 p.m. |
Billing Department
Phone: 785-564-4655
Locations
Not in the Manhattan area? We have outreach clinics throughout northeast Kansas.
Find a location near you.
Emergencies
If you have a life-threatening emergency, please call 911. If you have an urgent matter and need to speak with one of our staff members, please call 785-537-4200 or 800-793-2141. 
Hospitalization
Manhattan Surgical Hospital
Via Christi Hospital
Reaching the On-Call Doctor
If you are a current patient needing to speak with the on-call provider, please call 785-537-4200. After hours, our answering service will take your phone call and contact the on-call provider, who will then return your call ASAP. If you are trying to reach our ortho on-call clinic, please call 785-564-4626.
---