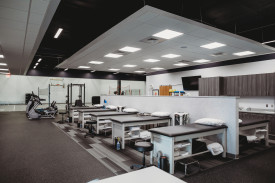 Outpatient Therapy Services
Our staff is expertly trained in the evaluation and treatment of musculoskeletal injuries, both pre- and post-operative as well as other outpatient conditions. We treat individuals from school-aged children to the elderly population.
Patient self-referral, otherwise known as "direct access," is welcomed in our Physical Therapy Department. Rather than first seeing a physician for a referral to PT, you may call on us directly to evaluate and treat your musculoskeletal conditions and injuries.
Outpatient orthopedic physical therapy and rehabilitation
Outpatient sports physical therapy and rehabilitation
Post-surgical physical therapy and rehabilitation
Pre-operative orthopedic care
Gait training
Balance/fall prevention (PDF) physical therapy and rehabilitation
Sports medicine-related wellness and injury prevention
Vestibular (vertigo-related) physical therapy
Biodex isokinetic testing
Pediatric services for torticollis and other musculoskeletal disorders
Pre-op and Post-op amputee care
OSMC is excited to offer a Streamline to Sport program to return all athletes to his/her sport as quickly and safely as possible. Our program streamlines the transition from physical therapy discharge to successful return to play. This is achieved through one-on-one sessions with an athletic trainer whom will train, monitor & successfully guide the athlete through individualized sport specific activities and interval drills. 
Inpatient Therapy Services
Our therapy staff along with the physicians of OSMC, work as a team to provide care to patients receiving total joint replacements at the Manhattan Surgical Hospital. We work closely with the MSH staff to coordinate each patient's plan of care and prepare for a smooth transition for continued care out of the facility.
Pre-operative joint replacement education
Post-surgical evaluation and treatment
---