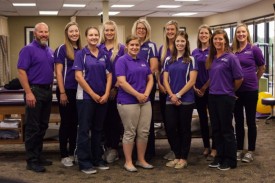 Physical therapy is one of the many services provided at OSMC for the complete and comprehensive care of orthopaedic and sports related injuries and ailments.
"Our patients will come here and receive the highest level of physical therapy care based on years of clinical experience and on-going up-to-date training," said Chad Joyce, PT department supervisor for OSMC.  "We further desire our clients to have an enjoyable customer service experience.  We will provide a caring, pleasant and professional environment."
OSMC has always hired the highest quality physical therapists, Joyce said, and provides ongoing training and continuing education to every therapist.  OSMC is also aggressive in incorporating the latest technologies and treatment techniques - such as the recent installation of DARI motion capture technology, Personalized Blood Flow Restriction Therapy, and Dry Needling. These additional services allow OSMC therapists a plethora of tools to assess patients as individuals and develop a personalized plan of care.
"Combining all elements: highly skilled staff, clinical experience, on-going education, modern technologies and a customer service focus, enables us to provide a medically productive and quality patient experience," Joyce said. "We are results oriented, as we like to say, the greatest comebacks begin at OSMC!"
Several of the therapy patients at OSMC have undergone surgery or treatment by an OSMC doctor, however, many are referred by other doctors in Manhattan and across the state of Kansas.  Several of our patients are self-referrals (walk-ins) and some are K-State students in Manhattan, who see doctors somewhere else. Each of these patients has a unique background and situation, Joyce said, and OSMC's focus on personal service allows its therapists to treat them all effectively and compassionately.
If you're looking for physical therapy, or any other orthopeadic treatment, that comes with personal service and care, you'll find it at the Orthopaedic and Sports Medicine Center. Click here to request a consultation, http://www.kansasortho.com/contact/request-appointment 
---