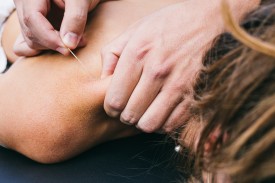 Sometimes, during the course of treatment, a physical therapy patient may plateau in their progress, or encounter a persistent pain or spasm. In those cases, OSMC physical therapists may consider an additional form of treatment: dry needling.
Dry needling involves using needles, without medication or injection, to stimulate trigger points in the muscles. Active trigger points in the body can cause pain, spasms, and other uncomfortable sensations - dry needling can deactivate those trigger points to eliminate those symptoms.
Dry needling has been in the OSMC arsenal since May of 2016, when Leah White, doctor of physical therapy at OSMC, obtained a certification in the practice.
"I can use dry needling to complement other aspects of physical therapy," Dr. White said. "If I'm doing soft tissue or hands-on work, dry needling can be a great tool to fit into a regimen and complement the skills we already have in the physical therapy department."
Dry needling can be an effective course of treatment for pain and discomfort all over the body. According to Dr. White, some of the symptoms and diagnoses that dry needling can help with include:
Neck and shoulder pain
Muscle tightness with trigger points
Lateral and medial epicondylitis (tennis elbow and golfer's elbow)
Achilles Tendonitis
Muscle strains
Those are just a few of the instances in which dry needling might be an effective treatment, Dr. White said. The technique has a wide range of applications.
The age range is vast as well. It is applicable for as young as teenagers and as old as senior citizens.  
Dry needling is just one of many non-traditional techniques embraced by OSMC's physical therapy department, which is focused on being on the cutting edge of physical therapy.
To learn more about dry needling or schedule a consultation for any of our services, click here. 
---